Belinda R. Baker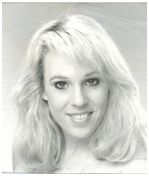 Belinda Baker has over 25+ years of experience in the marketing, television and multi-media production industries. Her long and acclaimed career began in the mid-90s when she created one of the first-ever interactive, reality TV shows Let's Get Personal starring the enigmatic David 'The Dating Doctor' Coleman. Belinda is prolific writer, producer, performer and published author.
Belinda also created and produced several city-specific home shopping shows including Shop Cincinnati, Shop Indianapolis and Shop Louisville featuring products and services from local artists and merchants in a QVC infomercial- style format.  Belinda is a multi-optioned screenwriter and has produced hundreds of broadcast commercials, music videos and TV/cable shows and authored the young reader novel & film script Finney the Star Breacher.
A prolific writer and producer, Belinda also created and produced a variety of major charity events and a number of local regional and national promotions and events and TV specials including the Millennium Awards 2000 and Star of the 90s; a talent search show similar to America's Got Talent & American Idol.