Wayde King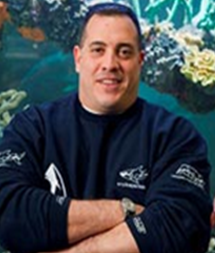 Star of Animal Planet's long running hit reality show TANKED, Wayde's love of fish and all things aquatic began at an early age. Born and raised in Long Island, New York, Wayde has early memories of his mother and biological father who was a fish dealer and the multiple tanks they had in the basement of his home. At 14, he was cleaning aquariums in Long Island with his stepfather and over a decade later, he moved to Las Vegas to work for another company where he built and sold aquariums. This move led to his building a fish tank for a family that possessed the only thing he loves more than fish: his wife Heather whose father, a successful businessman named Irwin Raymer, recognized his son in law's zeal for fish and partnered with Wayde to help him turn his passion and expertise of fish and aquariums into the successful business they have today.
Now Wayde is living his dream, designing and manufacturing some of the largest most extravagant acrylic aquariums in the world. But this isn't just
a business, it's a zany family adventure. Working byWayde's side are his wife, Heather, brother-in-law and chief operating officer Brett and his father-in-law Irwin Raymer. While working with his family has,at times,been challenging, Wayde is happy to share both the stress and success with the people he loves the most.When Wayde isn't working, he's often found scuba diving in his free time. When it comes to fish, Wayde is an expert and perfectionist. With over 36 years in thisfish business, his goal is to not only keep his customers happy but the fish as well. Wayde's passion and persistence have not only brought his business to new heights but led to the overwhelming success of their reality show. We are happy to welcome Wayde and his fishy family into the Finney pod and look forward to building a successful film franchise with our friends from Acrylic Tank Manufacturing.